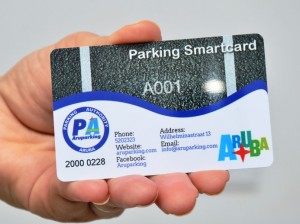 Aruparking pa medio di e articulo aki kier a splica un biaha mas con e Aruparking Smartcard ta traha y asina haci hopi mas facil na momento cu ta bay paga na un di nos parkeermeternan.  Mirando cu ainda hopi hende no ta completamente informa y ta haci pregunta tocante e funcion di e Aruparking Smartcard , nos a dicidi di trece e splicacionnan aki, pa asina tur hende por compronde esaki miho y ainda busca nan Aruparking smartcard na un di e lugarnan mas cerca di nan.
Funcion
Pa cuminsa nos kier a splica cu esaki ta un smartcard cu bo por compara cu un credit card, pasobra bo por recarga esaki cu placa na cualkier di nos rebendedonan y na momento cu esaki tin placa riba dje por simplemente tap esaki na nos parkeermeternan na momento di pago. Esaki ta nifica cu bo no mester cana cu placa los mas den bo cartera of den bo saco di carson. Tampoco mester kibra cabes na momento di paga, sea si tin suficiente cen larga of si tin placa larga mas chikito pa por paga pa menos tempo. Simplemente na momento di procesa na e parkeermeter ta kies pa e smartcard na momento di scoge pago, primiendo e # y automaticamente na momento di pone e smartcard na e area destina pa e smarctcard, e parkeermeter lo lesa esaki y e pago lo wordo haci asina ey y e recibo lo print automaticamente. Locual tambe nos kier splica, ta cu usando e smartcard e parkeermeter mes lo puntra cuanto tempo ta kere cu lo bay keda para y aki por hinca minuut y ora pa e mashin cobra exactamente locual ta keda para.
Recarga bo Smartcard
Nos kier splica bon cu e Aruparking Smartcard no ta vence y tampoco e placa cu bo tin riba dje, haciendo cu nunca lo perde placa cu a recarga riba e Aruparking Smartcard. Nos tin  rebendedonan rond di nos isla caminda por cumpra y recarga e Aruparking smartcard, cual lista nos ta publica tambe hunto cu esaki.
Pa e motibo nan aki Aruparking kier a invita un y tur cu ta uza centro di nos ciudad,  pa busca un Aruparking Smartcard pa semper tin e na alcance y tambe e manera mas facil pa paga espacio di parkeer na momento di bay den centro di ciudad pa haci compras of cualkier otro motibo.