Dialuna e prome ganador di e campaña di Back to School di Aruparking, Ivo Andre Dongen a busca su check.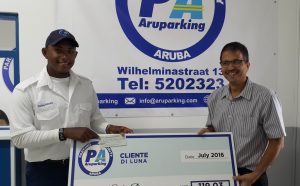 Aruparking conhuntamente cu riba 40 tienda den centro di ciudad a uni forza y a bin cu un campaña special pa promove shopping den nos Caya Principal. Asina for di cuminsamento di juli tur e tiendanan participante ta ofrece esnan cu cumpra 35 Florin den nan tienda 1 Florin bek, si cumpra mas di 50 Florin ta haya 2 Florin bek y compras riba 100 Florin e cliente por pasa na oficina di Aruparking den Wilhelminastraat y busca un smartcard cu 10 Florin regalo riba dje. Ademas ta participa tambe pa fin di luna por gana nan compras bek te na un maximo di 350 Florin.
Ivo Dongen tabata e ganador di e sorteo di juli unda cu el a haya su compras realiza na Angelo Fashion bek.
E campaña ta continua te cu september, dus ainda tin chens pa participa y gana mientras cu ta sostene nos comercio local y nos Caya Grandi.
Bin shop den centro di ciudad trankilamente hayando lugar di parkeo facilmente, cu un variedad grandi di articulonan pa tur gusto y cu e oportunidad pa gana cumprando na un di e tiendanan aki:
Collins; Dolce Gabana; Shoeballoo; Paleis Oriental; Lian Gift Shop; Boolchands; Friends of God; Angelo Fashion; Jeans Alley; Diesel; La Martina; Shoeballoo Sports; Sams; Pandora; Sun Specs; Mango; The Sting; Wulfsen & Wulfsen; Radio Shack; Star Fashion; Sport Caribe; Cilo; Latin Fashion; Seasons; Artistic; La Moderna; Sagar 2; Supershopping; Giordano; Win Me; Classic; Totto; Big Bazaar; Donna; Basinger; Pizza Hut; The Athlete's Foot; Athlete Sport; Nike Store; Puma Store; A1 World Electronics; Little Kingdom y Little Ones.
Masha pabien Ivo Dongen y danki pa sostene Aruparking y nos centro di ciudad.