Diabierna mainta Aruparking tabatin un conferencia di prensa na Friends of God Bookstore pa informa tocante cambionan grandi y positivo pa tur usuario di Aruparking y cu ta mustra e sosten grandi cu Aruparking ta brinda comercio den e area di centro di ciudad.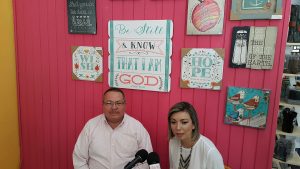 E prome cambio ta encera cu e usuario lo haya mas tempo pa su placa. Te diabierna ora ta deposita 2 Florin den e parkeermeter esaki tabata duna e usuario 1:30 ora di parkeo, pero awor esaki a cambia, pa cada 2 Florin cu ta deposita den e parkeermeter usuarionan por parkeer 2 ora. E tarifa aki ta conta di dialuna pa diabierna. Pa diasabra tin mas tempo disponibel, pa cada 2 Florin cu ta paga pa parkeo, clientenan por para un total di 3 ora, mescos cu e campaña cu Aruparking tabatin pa Dia di Tata, pero awor e lo ta pa tur diasabra.
E di dos cambio ta cu te diabierna parkeo paga tabata funciona di 7or di mainta te 7or di anochi, pero esaki lo cambia tambe. Orario nobo ta di 9or di mainta te 7or di anochi. Pa e cambio aki lo bay duna un tempo di prueba di 2 luna pa mira e resultado di dje.
E otro cambio cu Aruparking a anuncia diabierna mainta ta cu lo duna un espacio di 15 minuut despues cu e tempo a vence pa e cliente busca su auto of recarga mas tempo di parkeo, dunando asina un tiki mas tempo na e usuario pa por haci esaki. Por fabor tene na cuenta cu esaki no kiermen cu por para 15 minuut gratis, e kiermen cu ta duna e espacio pa esnan cu a paga caba busca nan auto of recarga mas tempo.
E ultimo cambio cu a anuncia ta cu parkeo patras di Botica Oduber y parkeerplaats di Arubus lo ta gratis pa e prome 3 oranan. Usuarionan mester registra na e parkeemeter manera custumber, pero no lo mester paga. Despues di 3 ora nan lo mester paga e tarifanan corespondiente na e tempo cu nan mester, sea via iParkMe, e app di Aruparking, cash of cu e smartcard.
Cu e cambionan aki, hunto cu introduccion di e app, promocion di e campaña di Back to School hunto cu comerciantenan di centro di ciudad, Aruparking ta sigui riba e caminda di mehoracion di servicio pa tur usuario y tambe promocion di shopping den centro di ciudad.